Referrals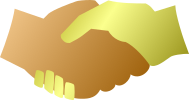 Help us meet new people, and we can help you in return
At Solidarity IT, we believe in working with the community, for the community. To encourage this we have a referral scheme available to anyone.
If you refer a new customer to us, you'll get 10% of what they spend with us for the first year.
If you have someone you'd like to refer to us, just send us an email and we can take it from there.